Being in a relationship with a "trans woman," under the currently popular ideology, means telling an extraordinary number of lies. The most obvious of these is "you are a woman." I'll get to some of the others in a moment.
The transgender person thinks this particular lie is true and doesn't know that his friends are telling him a story. The transgender person's friends think this is a polite lie for the sake of kindness or a purely semantic concession and don't know that the transgender person genuinely believes otherwise (such a level of delusion seems unlikely to many). The fact that neither side knows what the other is thinking is one of the hazards of choosing to lie.
I think a case can be made for never lying in any arena of lie.  It's a goal I work toward every day. Starting from a place of sound ethics and bravery can make it possible to tell the truth in a compassionate way.  Sure, you can tell your friend that you like her ugly haircut and probably never suffer any consequences. Or you can say nothing, which is my recommendation in this situation. Or you can learn to say, if directly asked, something honest: "It's awfully short, isn't it? I have to say I preferred it when you wore it a little longer. But if you like it, that's all that matters. That's a popular style now. A lot of people like it!"
But let's put aside the question of whether one can live without lying, ever, and focus on the question of lying to a transgender person.
Is it really kind?
A detransitioned female I've met, who sometimes writes under the name Maria Catt, says it isn't. I'm paraphrasing from memory, because the post has been made private, but she said there's "no respect" in simply acquiescing to your friends' demands instead of treating them like capable adults who can handle the truth.
Here are some of the lies we tell to transgender people. My examples are skewed toward male-to-females, as that's where my experience lies.
Lie #1: You Pass
During the time I spent heavily involved in the transgender community I met hundreds of transgender people. Some used cosmetic enhancements or prosthetics only, some took hormones, some had undergone a few surgeries, and some had undergone every surgery you can think of.  General (but very reliable) rule: these people do not pass. By and large it's just not a thing. And importantly, when someone comes close to passing, the event is wholly unrelated to the interventions they've done. Skinny young dudes with good skin sometimes come close with no interventions whatsoever. People who've had every surgery known to man sometimes still look like guys in drag. 
But we tell transgender people they pass and we further we imply it via "gendering" and insincere compliments about their beauty.
Lie #2: You Can Pass
As mentioned above, interventions generally do not increase the chance of passing. So why does society perpetuate the myth that they do?
Suppose there was a line representing appearance as indicated below. "Masculine" looking people are at the left end, at the value 1. "Feminine" looking people are at the right end, at 200. As it turns out, looking masculine versus looking feminine correlate quite well to sex. Numbers 1 to 100 are men and the average man sits at 50. Numbers 100 to 200 are women, and the average woman sits at 150.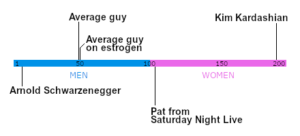 Transgender males who take hormones see themselves move from 50 to 52 . It's an actual change. There are A-cup boobs there when there weren't before. There's a softening of the skin. And because transgender people, like people with other forms of body dysmorphic disorder,  spend a lot of time evaluating themselves in the mirror, this difference is heightened to them. They think it's a 130. But the rest of us see a 52. To the rest of us, a 52 comes nowhere near approaching the most masculine female we know. Strangers who aren't attuned to the political culture are unlikely to even notice in some cases.
Transgender people think their interventions are working. Everyone else knows better. Neither side knows what the other is thinking.
Consider the hazards of perpetuating the myth "you can pass." Not only does it encourage the transgender person down the path of hormones and surgery, and the attendant health problems with that, but it does so for literally no objective benefit. That's just sad.
Cognitive dissonance is a fickle thing and it sometimes wanes (I've seen it happen). It's a hard wake-up call when that waning accompanies a realization that one's finances, relationships and health have been compromised in the service of a lie.
Lie #3: Sex Isn't Real
Because of that aforementioned mirror-gazing, transgender people are legitimately under the impression that bolt-on tits and eyeliner create a reasonable facsimile of a woman.
Recently I vacationed on the coast. About a mile away from me a beach security vehicle stopped and the driver opened the door. I expected the driver to be male because, you know, unconscious bias. But the driver was female. She wasn't especially curvy and I couldn't see her tits or her eyeliner (if any) from that distance. In fact, she was in a shapeless uniform and had short hair. But it was clear she was female. She started a slow walk toward me and eventually crossed my path, where I could confirm, though it wasn't necessary, that she was in fact a woman.
People can tell females from males, even at great distances. It's more than tits and eyeliner. It's the tilt of a pelvis, the shape of a back, the curve of an ankle, the length of a forearm. Even a female's cough sounds different from a male's. There aren't enough interventions to override this incredibly pervasive cellular information.
People (including children) know what sex other people are because it's an innate and necessary skill. It matters when evaluating threat, choosing allies, maintaining family relationships, and evaluating sexual partners.
That brings us to the next lie.
Lie #4 Straight Men and Lesbians Want to Date You
My ex once posted that straight men were "too cowardly" to date him. I don't engage with him but I wanted to scream, for his benefit more than anyone else's, the much simpler explanation:  Straight men like pussy!
There's a huge amount of propaganda out there about the dating prospects of trans people, especially post-op. The LGBT world promotes the lie that lesbians are attracted not to female bodies or female people, but to invisible female-identification occurring in the other person's brain and/or to female-impersonating bodily modifications. It doesn't work that way. Lesbians are attracted to females, not to disembodied tits. Otherwise they could glue a bra to a robot and never leave the house.
The medical community perpetuates another set of myths: that hormones won't interfere with erections and surgery won't interfere with orgasm. Finally, the mainstream news is full of stories about trans people with supportive partners or vibrant dating lives. The rare reportage of breakups and divorces places the blame on the partner's failure to adapt.
Everyone ignores the elephant in the room: people who prefer men prefer unaltered men, and people who prefer women are not satisfied by facsimiles of women.
In an illumination of the two-facedness of this lie, everyone pretends it's someone else's job to step up and date trans people. I wish I had a nickel for every person who criticized the way I was managing my relationship, despite telling me they would have bailed after the first confession.
Meanwhile, trans people themselves are all over social media posting, "So weird and utterly inexplicable, but I can't find anyone to date!"
People care about the sex organs of their partner. They care what they are, whether they work, and whether they can be named and enjoyed without a meltdown on the part of their owner. People care very much. People want to enjoy sex, not ineffectually stroke non-functioning and/or simulated organs.
This may sound mean. But it's even meaner to wait until transgender people have undergone these interventions before letting the harsh truth sink in.
Pretending that hormones, surgery and a rejection of one's own sex has no effect on dating prospects is nothing short of cruel.
I Think of You As a Woman
No, you don't.
You're not trying to fix him up with your dad. You're not asking him for advice on natural childbirth techniques. You're not inviting him to ladies night at the wine bar.
And he has noticed. But he's choosing to cling to the pleasant lies you tell instead of the unpleasant reality you represent.
Lying isn't a good thing. I couldn't keep doing it. I couldn't keep doing it for the sake of my own soul and I couldn't keep doing it for the sake of his.
Lying to yourself is even more pernicious than lying to others, because it makes you ill-equipped to handle life. I couldn't enable that any longer. Enabling a person's self-deception is harmful to their survival.
This is intuitive–we don't tell anorexics they need lipo or Michael Jackson he needs another nose job. But it's more than philosophical. It was my experience in direct practice, as well. The more my ex pursued the comfort of lies, the sicker he became, the more he hated himself, and the more depressed he became–until he was contemplating suicide.
There's no easy answer. But being honest and ethical has to be a start.